[:es]En el día de hoy se disputaron las semifinales y la final de la competición de Clash Royale organizada por FISU AMERICA en el marco de las celebraciones del Día Internacional del Deporte Universitario. Esta como tantas otras actividades celebradas entre el 14 de septiembre y el 10 de octubre fueron realizadas para mantener y estrechar los vinculos entre los estudiantes y federaciones de todo el continente en este contexto de pandemia mundial.
Hoy fue el turno de la definición del torneo de Clash Royale, donde se enfrentaron en primer turno Leonel Obandu de Honduras versus Juan Daniel de Perú, siendo el hondureño quien consiguió el pasaje a el cruce más importante del torneo.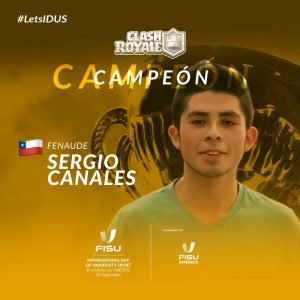 Por el otro lado, y como toda la competencia que pudo ser seguida en vivo a través del canal de FISU AMERICA en twitch, el chileno Sergio Canales enfrento al brasilero Bryan Gamarra. En esta oportunidad, el perteneciente a FENAUDE, fue quien avanzó a la final.
Último encuentro, Chile versus Honduras, Sergio contra Leonel, todos estos días de competición se resumían al enfrentamiento final, donde no sólo el ganador conseguiría puntos para su federación nacional, sino que se consagraría como el mejor jugador de Clash Royale en América. La duela termino en 3 a 2 a favor del chileno quien se consagró campeón.
La acción continúa en la celebración del IDUS con el torneo de Free Fire la próxima semana. Para más contenido siguenos en nuestras redes sociales o en el sitio web oficial del evento.
[:en]Today the semifinals and the final of Clash Royale competition organized by FISU AMERICA were played. This tournament like other activities between the September 14th and the 10th of October are part of the celebration of International Day of University Sport, where the idea is to connect and keep active the students and federations of our continent in the middle of this pandemic scenario.
October 3rd is the day indicated for the definition of the Clash Royale competition, where in the first match of the day, Leonel Obandu from Honduras faced Juan Daniel from Perú. The Hondurean was who got the ticker to the most important match of the day.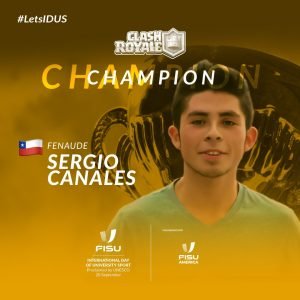 On the other side, also available to been followed through the Twitch Channel of FISU AMERICA, Sergio Canales from Chile, had to face Bryan Gamarra from Brazil, and the Chilean was the one who pass to the next stage.
In the final, Honduras versus Chile, Leonel against Sergio, all these day of competition ended witht the most important game. The Chilean could beat the Hondurean and won the tournament, giving points to his federation, and getting the price of Best Player of Clash Royale in the continent.
The action for the IDUS celebration continues next week, with the Free Fire competition. For more content follow us in our social networks or the official website of the event.[:]