[:es]Luego de cinco días de competición, sólo cuatro jugadores siguen en camino a ser el/la mejor jugador/a de Clash Royale del continente. En el marco de la celebración del Día Internacional del Deporte Universitario, esta semana tiene como atractivo principal el torneo de Clash Royale que develará quién es el/la mejor del deporte universitario de América.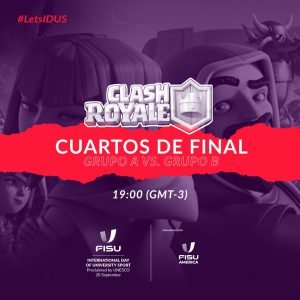 Hoy, viernes 2 de octubre, fue momento para los cuartos de final de la competición, donde el chileno Andrey Gamarra enfrentó al brasilero Bruno Martins y el argentino Francisco Caloni se batió a duelo con el brasilero Sergio Canales, de Brasil. Estos enfrentamientos fueron los cruces correspondientes a los mejores de los grupos A y B.
Por los grupos C y D, fue el turno de el hondureño Bryan Velasquez frente a Juan Daniel de Perú y el otro cruce repitió nacionalidades con Leonel Obando (HON) y Alejandro Edbel (PER).
Como toda las competiciones organizadas por FISU AMERICA, este torneo puede ser seguido a través del canal oficial de FISU AMERICA en Twitch.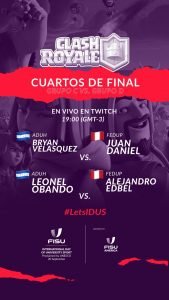 Luego de la acción del día de hoy, sólo los mejores 4 competidores siguen en carrera y ellos son Sergio Canales (CHI), Andrey Gamarra (BRA), Leonel Obandu (HON) y Juan Daniel (PER)
Donde los cruces serán de la siguiente manera:
Sergio Canales (CHI) x Andrey Gamarra (BRA)
Leonel Obandu (HON) x Juan Daniel (PER)
Luego de estos enfrentamientos se disputará la final que podrá ser seguida también a través del canal de Twitch. Para más contenido síguenos en nuestras redes sociales y a través de la web oficial del evento.[:en]After five days of competition, only four players still on the race for the title of the best Clash Royale player in university sport in America. Within the celebration of the International Day of University Sport, this week is time for the Clash Royale competition, where students from all the continent have been playing to find out who is the best one in this game.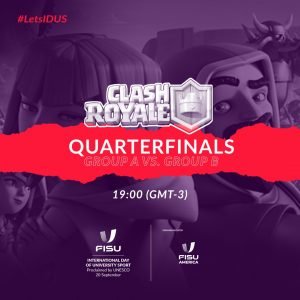 Today, Friday 2nd, was time for the Quarter-Final matches, where Sergio Canales, from Chile faced Breno Martins, from Brazil, and the Argentinian Francisco Caloni faced the Brazilean Andrey Gamarra. These matches crossed the best two player of groups A and B.
For groups C and D, the matches have only two nationalities, Hondurean players facing Peruan ones. Bryan Velasquez against Juan Daniel and Leonel Obando against Alejandro Edbel.
Like all the FISU AMERICA competition during the IDUS celebration, these tournament can be followed through the official Twitch channel of FISU AMERICA.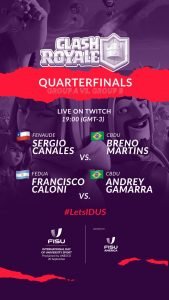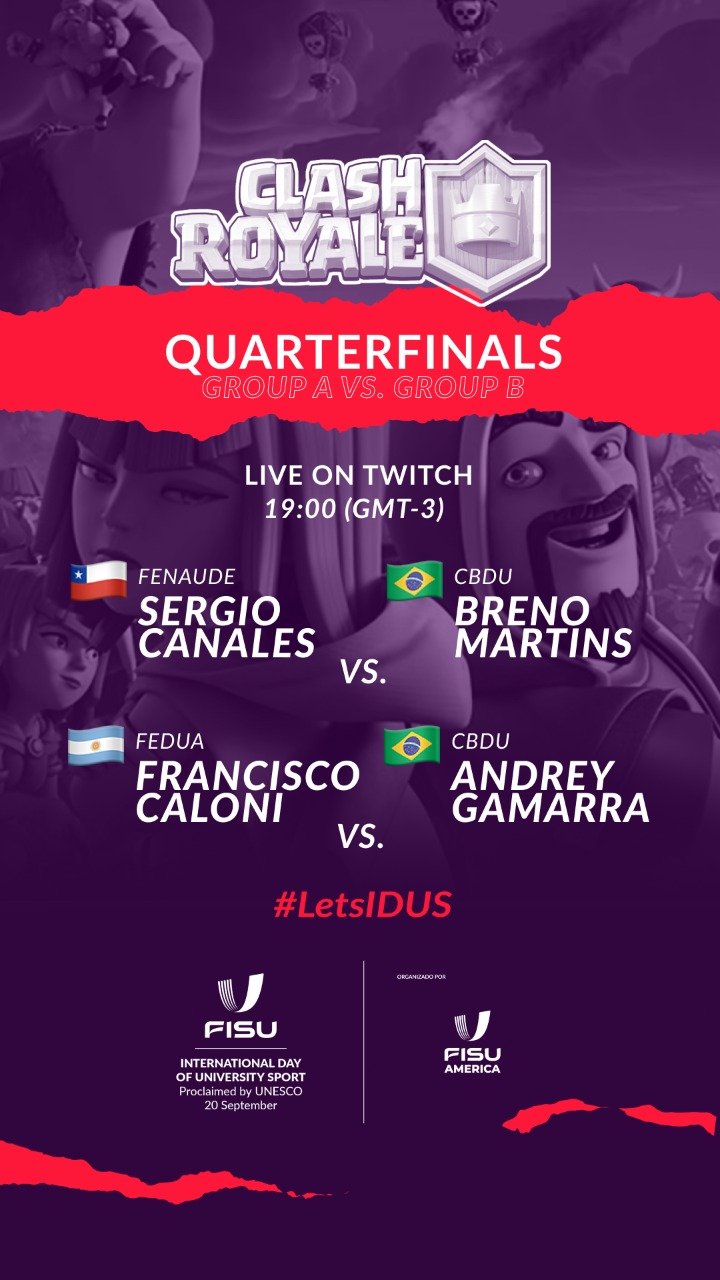 After the action today, the 4 player who are still alive in the competition are: Sergio Canales (CHI), Andrey Gamarra (BRA), Leonel Obandu (HON) and Juan Daniel (PER)
That is how the semifinals matches are:
Sergio Canales (CHI) x Andrey Gamarra (BRA)
Leonel Obandu (HON) x Juan Daniel (PER)
After this, the players will play the final of this amazing competition, don't miss it and follow all the action on Twitch. Follow us in our social networks for more content or in the event official website.[:]