[:es]Con 40 participantes de 8 países del continente se realizó la fase final por equipos del FISU America Chess 2020, quedando como campeón la selección representativa de México con 12 puntos Match, empatando con la selección de Perú, sin embargo el sistema de desempate le favoreció a México al obtener 27.0 pts, en segundo lugar quedó el equipo de Perú con 26.5 pts por desempate y la tercera posición fue ocupada por la selección de Cuba quien termino con 11 puntos Match; se jugaron 7 rondas en la modalidad de Round-Robin en 5 tableros simultáneamente a un ritmo de 3 min + 2 seg.
El torneo se desarrolló en la modalidad virtual por la plataforma lychess.org el cual fue transmitido en vivo por las cuentas oficiales de Facebook y de YouTube de FISU America y Deportes UADY contando con la narración y los comentarios del MI Pablo Della Morte y el MI Oscar Sánchez Enríquez.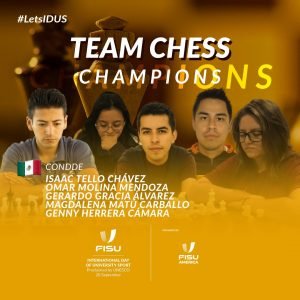 El equipo campeón estuvo integrado por, Isaac Tello Chávez (ITESM SLP), Omar Molina Mendoza (ANÁHUAC NORTE), Gerardo Gracia Álvarez (ANÁHUAC QRO), Magdalena Matú Carballo (UADY) y Genny Herrera Cámara (UADY). Los países participantes fueron Honduras, Costa Rica, Colombia, Brasil, Argentina, Cuba, Perú y México.
El evento fue organizado por la Federación Internacional del Deporte Universitario (FISU América) en América en colaboración con el Consejo Nacional del Deporte de la Educación (CONDDE) y la Universidad Autónoma de Yucatán UADY.
El presidente Alim Maluf Neto dijo acerca del FISU AMERICA CHESS 2020:
El ajedrez fisu América fue un éxito con la participación de más de 150 estudiantes deportistas de 12 países de nuestro continente y sirvió también de preparación para los equipos americanos en preparación para el campeonato mundial que se realizará a finales de este mes. Un agradecimiento especial a todo el equipo del comité organizador que aquí hizo un trabajo fantástico y esperamos repetir este éxito el próximo año con la segunda edición.
[:en]With 40 participants from 8 countries of the continent, the final stage of the FISU AMERICA Chess 2020 is ended, with the Mexico national team tied the match in 12 points with Peru, but the tyebreaker system was for Mexico with 27,0 points and in the second place for Paru with 26,5. The third position was por the Cuba national team who finished with 11 points Match; they played 7 round in Round-Robin modality with 5 simultaneous boards, witht a rhythm of 3min + 2sec. The torunament was cattied out in virtual modality through the lychess.org platform and was streamed through the official accounts of Facebook and YouTube of FISU AMERICA and UADY Sports, counting with the narrative and comments of MI Pablo Della Morte and the MI Oscar Sanchez Enriquez.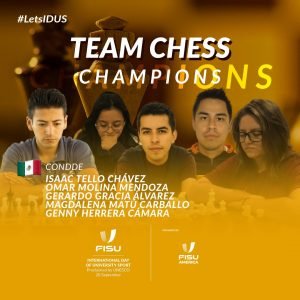 The Champion team was formed by Isaac Tello Chavez ITESM SLP), Omar Molina Mendoza (ANÁHUAC NORTE), Gerardo Gracia Alvarez (ANAHUAC QRO), Magdalena Matú Carballo (UADY) and Genny Herrera Camara (UADY). The participant countries were Honduras, Costa Rica, Colombia, Brazil, Argentina, Cuba, Perú and Mexico.
The event was organized by the International University Sport Fderation (FISU AMERICA) in America, collaborating with the Educational Sport National Counsil (CONDDE) and the Autonomic University of Yucatan (UADY)
The president Alim Maluf Neto said about the FISU AMERICA CHESS 2020:
The FISU AMERICA Chess was a success with the participation of 150 students from 12 countries of our continent and was a good preparation for the American teams that are going to be part of the World Championship in the last days of this month. We want to thank specially to the organizing committee, they did an amazing job and we expect to repeat this successful competition next year in the second edition.
[:]