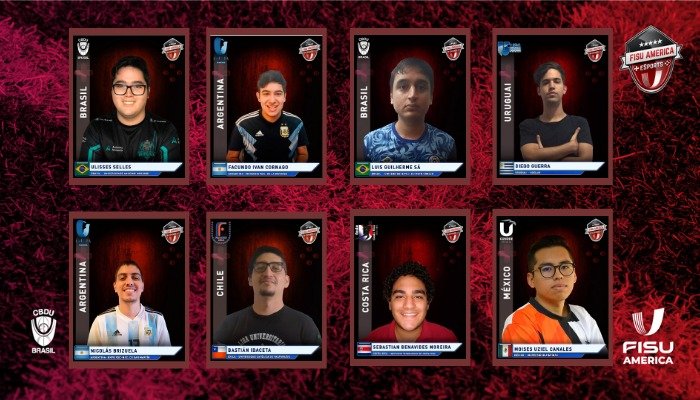 We are in the nineth day of competition and the eliminatory stage of the FISU AMERICA eSports – FIFA20 is already started.
The round of 16, as all the games of the tournament, we intense and we have a great level showed by the players. The matches are being showed through our FISU AMERICA YouTube Chanel, where the followers from all around the continent, have been supporting their national representatives, like every night.
Ulisses Selles from Brazil and first qualified of group B, faced Johan Caro, Chilean of group F. This knockout cross was for Ulisses by 9-0.
The second turn was for Facundo Cornago, from Argentina and belonging to group F, beat Elías Castillo, from Chile and participant of group A, by 4-3.
Third match of the day between Yago Taboada, Argentinian and first of the group A, who faced Luis Guilherme from CBDU of group G. The win was for the Brazilean.
The fourth pair of games faced Diego Guerra, Uruguay and leader of group H, and Gustavo Abello, second of group C, from Venezuela. De Uruguayan moved to the next round.
Nicolas Brizuela from Argentina and part of the group E and Jose Carmelo from Mexico and group D. The Argentinian got his ticket to the next round.
The Barbadean Nicholai Lovell, of group G, lost against the Chilean, Bastián Ibaceta of group B. In the penultimate game of this stage, The Costa Rica, Sebastian Benavides of group H beat the Uruguayan Martin Camacho from Uruguay.
Closing the round of 16 and with rest of the players qualified to the quarterfinals, Moises from Mexico beat the Salvadorean, Alexis Bernardino, puting Mexico between the top 8.
Tonight, you can follow all the action of the FIFA AMERICA eSports – FIFA20, through our YouTube, FISU AMERCA.