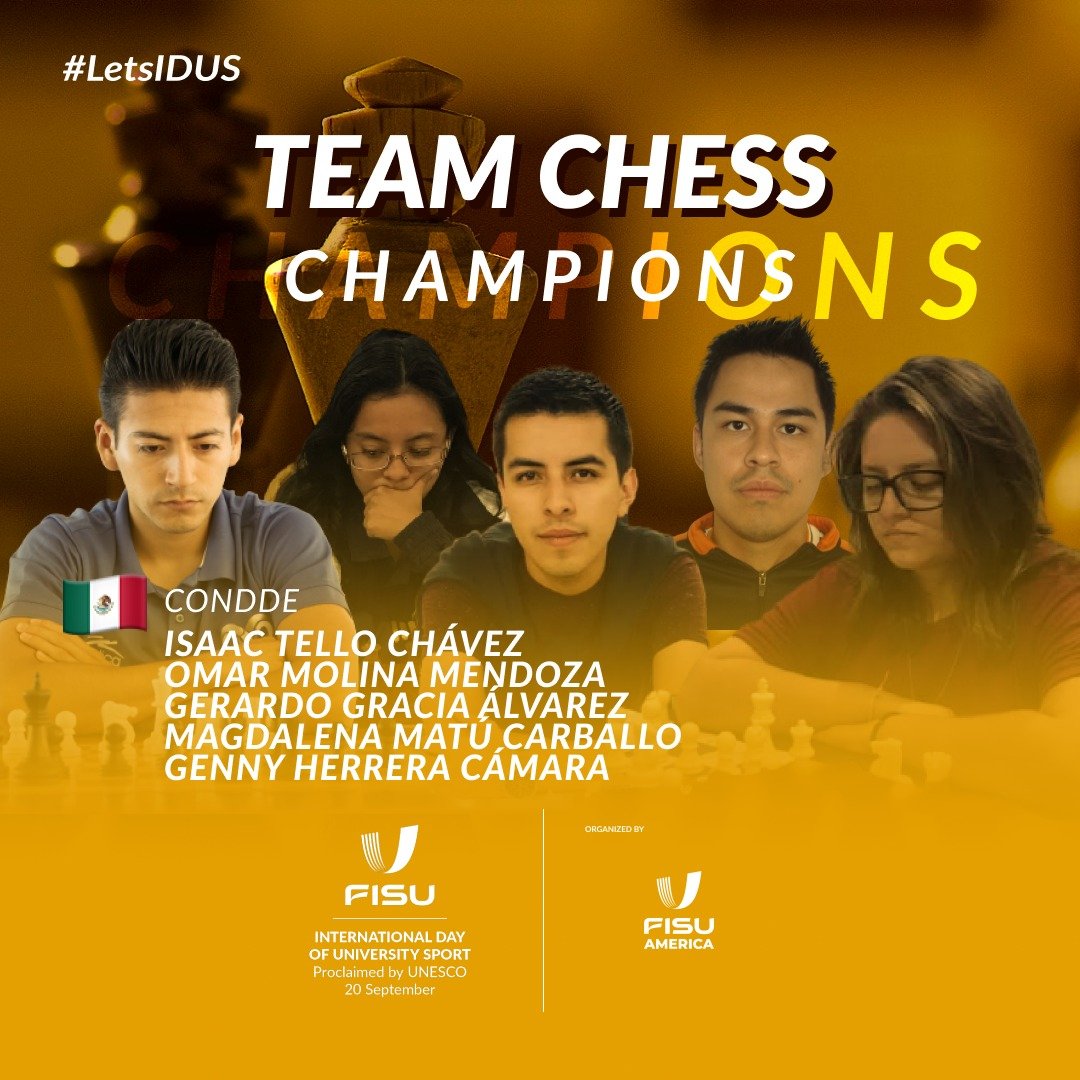 With 40 participants from 8 countries of the continent, the final stage of the FISU AMERICA Chess 2020 is ended, with the Mexico national team tied the match in 12 points with Peru, but the tyebreaker system was for Mexico with 27,0 points and in the second place for Paru with 26,5. The third position was por the Cuba national team who finished with 11 points Match; they played 7 round in Round-Robin modality with 5 simultaneous boards, witht a rhythm of 3min + 2sec. The torunament was cattied out in virtual modality through the lychess.org platform and was streamed through the official accounts of Facebook and YouTube of FISU AMERICA and UADY Sports, counting with the narrative and comments of MI Pablo Della Morte and the MI Oscar Sanchez Enriquez.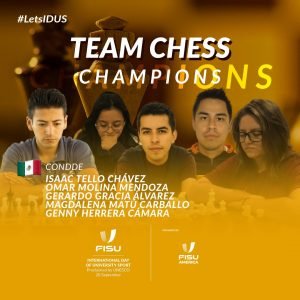 The Champion team was formed by Isaac Tello Chavez ITESM SLP), Omar Molina Mendoza (ANÁHUAC NORTE), Gerardo Gracia Alvarez (ANAHUAC QRO), Magdalena Matú Carballo (UADY) and Genny Herrera Camara (UADY). The participant countries were Honduras, Costa Rica, Colombia, Brazil, Argentina, Cuba, Perú and Mexico.
The event was organized by the International University Sport Fderation (FISU AMERICA) in America, collaborating with the Educational Sport National Counsil (CONDDE) and the Autonomic University of Yucatan (UADY)
The president Alim Maluf Neto said about the FISU AMERICA CHESS 2020:
The FISU AMERICA Chess was a success with the participation of 150 students from 12 countries of our continent and was a good preparation for the American teams that are going to be part of the World Championship in the last days of this month. We want to thank specially to the organizing committee, they did an amazing job and we expect to repeat this successful competition next year in the second edition.