The third edition of the FISU Volunteer Leaders Academy 2019 has ended and representatives from 16 different National University Sport Federations and one Continental representative were part of it.
During the seven days of the FISU Volunteer Leaders Academy 2019, student activists representing 80 continental and National University Sports Federations mastered new skills and shared experiences, as part of the forum's educational activities. The Academy's main outcomes are volunteer programs projects and concepts for 12 World University Championships taking place in 2020.
The FISU AMERICA's representative, Teresa Vásquez Rojas, from Chile (FENAUDE), commented us about the Academy: 'It was a very rewarding experience. It filled me of energy to keep working for the university sport. What makes me feel more proud, it's the fact that i had the opportunity to represent the continent, and I hope to have met the expectations of this important task. I'm grateful for the experience and I'm going to keep giving all my best to continuing growing together.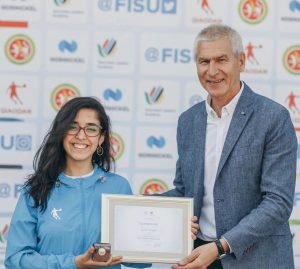 This year, celebrations planned for the International Day of University Sports were another focal point on the Academy's agenda. During the seven intense and productive days, the attendees participated in various activities, including workshops, round-table discussions, contests, group projects, and more.
FISU's international experts as well as representatives of some organizing committees like Ekaterinburg 2023 Summer Universiade and World University Championships 2020 delivered speeches at the forum. Azat Kadyrov, Director General of the Directorate for Sports and Social Projects Kazan, also contributed with his expert opinion on the various projects.
We talked with Luz Pizani, representative for FeDUA (Argentina) and she said: 'The Academy was incredible, it was a very intense and fulfilling experience. The classes were from social network management to volunteer programs for sport events'.
'I've learned so much in just a few days, I hope to go back to Argentina and be able to share and implement it. I'm so thankful for the opportunity of living this amazing experience'.
FISU President Oleg Matytsin congratulated the Academy participants on the successful event, saying 'You are our future. I hope that now, after the Academy, it is becoming more and more clear to you. Your knowledge is valuable both for you and your national federations, your countries.
Source: FISU