[:es]Hoy es el último día de la etapa clasificatoria del festival de Free Fire organizado por FISU AMERICA en el marco del Día Internacional del Deporte Universitario.
Con 132 equipos participando, la competición tuvo los primeros tres días donde los competidores intentan clasificarse a la etapa eliminatoria.
Durante jueves y viernes tendremos las semifinales de esta competición donde los mejores de América se enfrentarán entre ellos. El ganador no solo conseguirá el título del mejor equipo universitario de Free Fire, si no que también otorgará puntos extras a su federación en el concurso de la 'Federación más Activa del Continente'.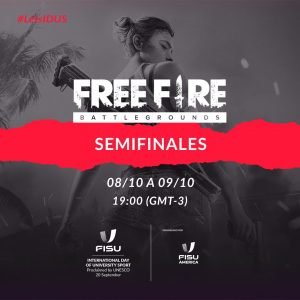 El torneo de Free Fire es el último de los festivales de eSports organizados por FISU AMERICA en el marco de las celebraciones por el Día Internacional del Deporte Universitario que comenzaron el día 14 de septiembre y terminarán el día 10 de octubre.
El streaming puede ser seguido por el canal de twitch  de FISU AMERICA desde las 19hs (GMT -3). Hoy el festival de eSports Free Fire es una iniciativa de FISU AMERICA. Continua siguiendo la actividad en nuestras redes sociales para más contenido y la página oficial del evento.[:en]Today was the last day of the qualifying stage of the Free Fire festival organized by FISU AMERICA within the International Day of University Sport. 
With 132 teams participating, the competition had the first three day where the competitors tried to find their place in the eliminatory stage.
On Thursday and Friday we will have the semi-finals of this competition where only the best of America will face each other. The winner not only will achieve the title of the best university sport Free Fire team, also they will give extra points to their federation in the 'Most Activa Federation of the Continent' contest.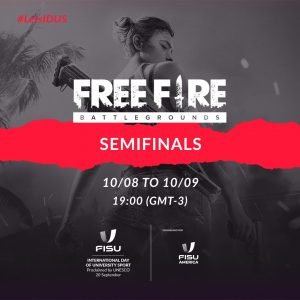 The Free Fire tournament is the last eSport festival of the celebration for the International Day of University sports organized by FISU AMERICA, which started on September 14th and will end on October 10th.
The streaming can be followed by the FISU AMERICA Twitch channel at 19hs (GMT -3). Today the esports Free Fire festival is an initiative of FISU AMERICA. Continue following the activities in our social networks for more content and the official page of the event.[:]