[:es]Junto a las actividades propuestas por FISU AMERICA en conmemoración del Día Internacional del Deporte Universitario, tiene también inició el concurso la ''Federación más activa'', que tiene como objetivo promover acciones en las Federaciones Deportivas Universitarias Nacionales y, en consecuencia, fomentar el deporte universitario en el continente.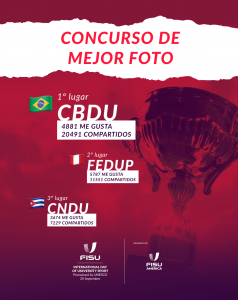 Todas las iniciativas de FISU AMERICA (conversatorios, festivales de esports y desafíos en las redes sociales) en conmemoración del 20 de septiembre otorgan puntos a cada país y una vez concluidas las actividades, la federación que obtenga el mayor puntaje de participación, ganara el título a la más activa del continente. Además de ese reconocimiento por participación masiva, la Federación Nacional más activa recibirá un monto económico en dinero para ser utilizado en bienes educativos o deportivos que deberá ser donada a una institución afectada por la pandemia.
En los conversatorios fueron atribuidos 10 puntos por participante, o sea, si 5 personas de determinado participan, ese país recibió 50 puntos. El festival de esports también sigue esta logica; 10 puntos por participación por persona, con el adicional por colocación final en el torneo: 1° lugar – 200 puntos, 2° lugar – 150; 3° lugar – 100 puntos, 4° lugar – 70 puntos, 5° lugar – 60 puntos, 6° lugar – 50 puntos, 7° lugar – 40 puntos, 8° lugar – 30 puntos, 9° lugar – 20 puntos, 10° lugar – 10 puntos.
La participación en las transmisiones de los webinars y los esports también valen puntos para el concurso de la federación más activa del continente. Todos los días habrá un link de transmisión donde cada espectador podrá informar de que país es. Al final sera contabilizado el total de espectadores por federación que serán puntuados de la siguiente forma: 1º lugar – 500 puntos, 2º lugar – 400 puntos, 3º lugar – 350, 4º lugar – 300, 5º lugar – 250 puntos, 6º lugar – 200 puntos, 7º lugar – 175 pontos, 8º lugar – 150 pontos, 9º lugar – 125 pontos y 10º lugar – 100 puntos.
Ambos desafíos en redes sociales 1) video promocional y 2) mejor foto, tuvieron puntos muy altos en el número de me gustas y compartidos de las publicaciones. El desafío 1 se analizaron las interacciones en las publicaciones hechas por las federaciones nacionales y en el desafío 2 fueron contabilizadas las interacciones en la foto publicada por FISU AMERICA referente a cada federación. Un me gusta suma 1 punto y cada compartido son 5 puntos.
A continuación el resultado parcial de la competencia:
Recordando: las actividades en conmemoración del Día Internacional del Deporte Universitario serán hasta el 10/10. Continúe acompañando nuestras redes sociales para mas contenidos y también la pagina oficial del evento.[:en]Also with the activities proposed by FISU AMERICA commemorating the International Day of University Sport, the contest 'The most active federation' already started, its objective is to promote the actions in the National University Sport Federations, in consequence, promote the university sport in the continent.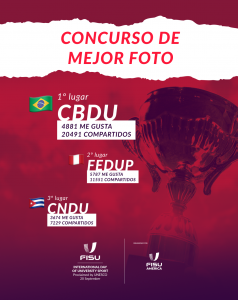 All the initiatives of FISU AMERICA (webinars, esports festivals and challenges in social networks) commemorating the 20th of September give points to the countries. Ince the celebration concluded, the federation with more participation points, will win the title of the most active federation of the continent. Also it will receive an economic amount to be used in educational or sport material that has to be donated to an institution affected by the pandemic.
During the webinars 10 points to each participant was given, so, if 5 people of the same country participated, that country received 50 points. The esports festival also follow this logic. 10 points for participant, in addition with extra points for final ranking: 1° 200 points, 2° 150 points, 3° 100 points, 4° 70 points, 5° 60 points, 6° 50 points,, 7° 40 points, 8° 30 points, 9° 20 points, 10° 10 points.
The participation in the streamings of the webinars and the esports counts points for the most active federation of the continent too. Everyday there will be a link to vote for your country. At the end these votes will be counted and the federation will be scored like that: 1°-500, 2°-400, 3°-350, 4°-300, 5°-250, 6°-200, 7°-175, 8°-150, 9°-125, 10°-100.
Both challenges in social media, 1) promotional video and 2) best photo, had high number of likes and shares in the posts. The challenge 1 analyzed the interactions in the NUSF profile, and in the challenge 2 counted the interactions in the post in the FISU AMERICA profile. Every like is 1 point and every share is 5 points.
Partial result:
Reminder: the IDUS activities will continue until 10/10. Follow us in our social networks for more content and the official page of the event.[:]