With 1200 athletes participating from 11 public and private universities, on 28th of March were inaugurated the XXVII Costa Rican University Games (Juncos 2019), will be carrying out in the Technological Institute of Cartago. The competition will last until 6th of April in the following sports: chest, athletics, basketball, indoor football, football, karate, swimming, taekwondo, table tennis, volleyball.
In the inauguration were present: The sport minister of Costa Rica, Mr. Hernan Solano, Don Julio Calvo, Rector of the Technological Institute of Costa Rica, the president of University Federation of Costa Rica, Gerardo Corrales, and the member of the FISU Executive Committee Ms. Rosaura Mendez.
The goal of the city of Juncos is to fraternize with university sports. It´s not all about to get a medal, the students will participate in a sports celebration in a university campus, which was thought as an infrastructure to serve to our university population.
The principal of the Technological Institute of Costa Rica, declare his commitment with university sport. All the support and investment will be a benefit for our students and the Costa Rican society, said the sport minister.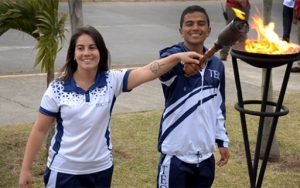 TEC launch the athletics track
Besides to meet the main athletes in the Costa Rican universities, the Juncos are also an opportunity to improve the sport infrastructure of the institutions. A good example is the new athletics track of the Technological Institute, the first synthetic track in the province of Cartago, which will be able to be use for the athletes of this tournament. 'This track model is three stars. In general terms we can say that is a B class track', said Marco Gamboa, engineer in charge of the project.
The facility has place for discus, javelin and hammer throw, and shot put. Also, for long, triple, and high jump, and pole vault. More improves at the gym (benches, tables, synthetic floor, and locker rooms), in the swimming pool (steps and locker rooms), multipurpose room, and football field (goals, benches and illumination).
Source: adiariocr.com