After a week from the end of the 30th Summer Universiade Napoli 2010 we make a review of the Mexico's performance.
21 medals, with 8 gold, 7 silver and 6 bronze, Mexico finished in the 8th place in the medal table of the Universiade, they achieved their best performance ever. We talked with the General Executive Secretary of CONDDE, Manuel Merodio, and he commented about the experience and the sensations of the achievements.
 'We had proposed ourselves to finish in the Top10 of the Universiade, we pronosticated 7 gold medals and we got one more. We were expecting 15 medals and we got 21'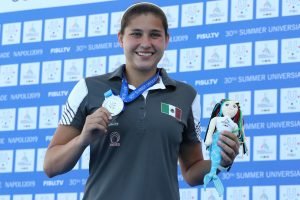 'We are so happy for the results, we overcame the place we thought before, and the gold and silver medals. Some athletism mexican records were broken'.
FISU AMERICA asked him about the process and the line of work of CONDDE, Merodio said: 'Since the end of Taipei 2017, when we achieved the best results up to that time, 22 medals with 6 golds, 5 silvers, and 11 bronzes, from that moment we started to work at least to get more gold medals…'
'…we started with the logistic, including the FISU AMERICA GAMES, and watching young people, so then we can take them to Napoli 2019. We are going to keep working in the same way, but trying to innovate and improve our processes, we want to overcome the results even when it´s hard we will work for that. CONDDE has a big structures with 32 statal delegates, 8 regional coordinators, 29 statal commisioners, 19 people working in the central offices, and the coaches. We have a big sport development with 32 statal events, 8 regional events, 7 national qualifiers and the National Universiade, where more that 8500 athletes participate in 25 or 27 sports, also we have semi-annual leagues from August to December. All this make the university sports stronger'.
 Now the names and their sports of the athletes that got the medals for Mexico:
Gold Medals:
BECERRA ARIZAGA Andrea Maya ARC – Women Individual Compound
MORAN ERREJON Paola ATH – Women 400m
RAMIREZ RIOS Edgar Isaac ATH – Men 4×400 Relay
VEGA FELIX Fernando Arodi ATH – Men 4×400 Relay
JIMENEZ PEREZ Jose Ricardo ATH – Men 4×400 Relay
MENDOZA FALCON Valente ATH – Men 4×400 Relay
MENDOZA FALCON Valente ATH – Men 400m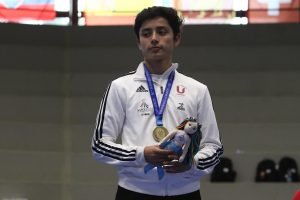 ESTRELLA MADRIGAL Alejandra Sofia DIV – Women Platform
HERNANDEZ MONZON Dolores DIV – Women 3m Synchronized Springboard
MENDOZA HERNANDEZ Carolina DIV – Women 3m Synchronized Springboard
BALLEZA ISAIAS Jose Diego DIV – Men Platform
BALLEZA ISAIAS Jose Diego DIV – Men 10m Synchronized Platform
VILLARREAL TUDON Andres Isaac DIV – Men 10m Synchronized Platform
Silver Medals:
AGUILLON RAMOS Dania Amaris ATH – Women 4×400 Relay
COOK MARTINEZ Rosa Leticia ATH – Women 4×400 Relay
CORONA RODRIGUEZ Frida Maria ATH – Women 4×400 Relay
MORAN ERREJON Paola ATH – Women 4×400 Relay
MEXICO DIV – Women Team Classification
HERNANDEZ MONZON Dolores DIV – Women 3m Springboard
ESTRELLA MADRIGAL Alejandra Sofia DIV – Women 10m Synchronized Platform
ZAMBRANO MONTIEL Daniela DIV – Women 10m Synchronized Platform
MEXICO DIV – Men Team Classification
BALLEZA ISAIAS Jose Diego DIV – Men 10m Synchronized Platform
VILLARREAL TUDON Andres Isaac DIV – Men 10m Synchronized Platform
ESTRELLA MADRIGAL Alejandra Sofia DIV – Mixed Team Event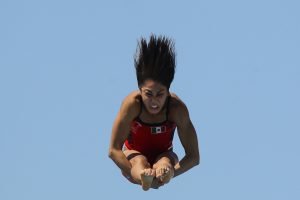 ZUNIGA ORNELAS Adan Emidio DIV – Mixed Team Event
Bronze Medals:
BECERRA RIVAS Miguel ARC – Men Team Compound
GONZALEZ DE ALBA Rodolfo ARC – Men Team Compound
MUNOZ GALARZA Uziel Aaron ATH – Men Shot Put
MENDOZA HERNANDEZ Carolina DIV – Mixed 3m Synchronized Springboard
ZUNIGA ORNELAS Adan Emidio DIV – Mixed 3m Synchronized Springboard
JUAREZ RODRIGUEZ Leonardo TKW – Men Poomsae
BECEIRO PIZARRO SUAR Andres Antonio TKW – Men 87kg
JUAREZ RODRIGUEZ Leonardo TKW – Mixed Pair Poomsae
IBANEZ RAMIREZ Ana Zulema TKW – Mixed Pair Poomsae