Yesterday, 25th of November, the 2nd FISU AMERICA Games Mérida 2020 were officially presented in the Universidad Autónoma de Yucatán(UADY).
The members of the National Council of Sport and Education(CONDDE) attended to this event, and also the Institutions of Public and Private Higher Education, The City Council of Mérida and the State Goverment, among them the Governor Mauricio Vila Dosal.
The rector of the UADY, José de Jesús Williams, gave some details about the competition. The games are going to take place between the 31st of May and the 10th of June of next year, with 3000 athletes-students of 200 universities, from 17 countries.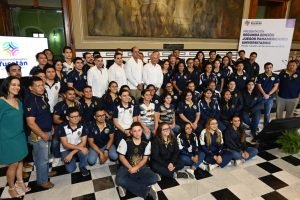 After the second place in the medal board in the 1° FISU AMERICA Games, Mexico keep working in the growth of the university sports and that's what the Executive General Secretary of Condde, Manuel Merodio Reza, talked about: 'It´s a pleasure to organize this international tournament in Yucatán, the safest state in Mexico'.
Later on the event, the FISU AMERICA president, Alim Maluf Neto, said that the decision of choosing Mexico as the host country for the competition, was because of the great organization in the National Universiade by the UADY, which counted with the support of the govermental autorities, related universities and sport clubs.
Some of the venues for this second edition of the Pan-American University Games 2020 are the Unidad Deportiva y Recreativa Kukulcán, the Poliforum Zamná, the Stadium Carlos Iturralde and the Stadium Salvador Alvarado, also the University Sport Units and Sport Club, etc.
In this edition of the FISU AMERICA Games the sport disciplines that are going to have place in the program are: diving, soccer, volleyball, futsal, badminton, tae kwon do, weightlifting, chess, tennis, basketball, swimming, athletics, archery, judo and table tennis.
Source: CONDDE