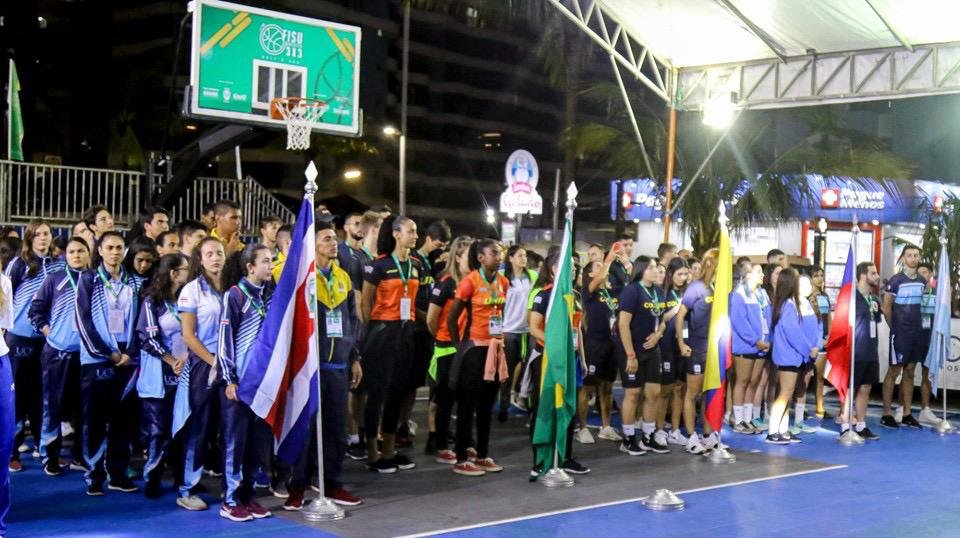 The Opening Ceremony, yesterday 7th of August, started the FISU AMERICA 3×3 Maceió 2019 with the participation of 7 countries and a first day of competition full of basketball.
Yesterday, in the city of Maceió, State of Alagoas, Brazil, was carried out the Opening Ceremony of the 3rd edition of the FISU AMERICA 3×3 where the delegations from 7 countries paraded and launched the event.
Among the presents were the FISU AMERICA President, Alim Maluf Neto, the FISU Vice-President and CBDU President, Luciano Cabral, the President of the Alagoana University Sports Federation, Ira Candido, and the Government Secretary of Maceió, Eduardo Canuto, who received and welcomed to the teams from different parts of the continent.
The court was built in the Praia de Pajuçara that gives a wonderful background for this important event, which grants tickets to the FISU World League 3×3 in Xiamen, China.
Today, 8th of August, started the first day of competition where 13 women team and 10 men teams participated and after the first games, some of them got the qualification to the quarter-finals. Down below the teams that qualified:
Women
UNLaM ARG
ITESM MEX
PUC Valparaiso CHI
Men
Universidad de Chile CHI
Universidad de Antofagasta CHI