A PLACE TO EXCHANGE IDEAS AND BEST PRACTICES
Every two years and alternating with the FISU World University Games event years, the FISU World Forum brings together students, officials and other key partners involved in the University Sport Movement with FISU Member Associations. Combining academic sessions with cultural, educational and sporting activities, it is a powerful communication platform for the various university sports communities. This combination gives the FISU World Forum an educational value in the broadest sense of the term. 
The FISU World Forum is held over five days. It usually focuses on one main theme and several sub-themes, each of which is moderated by a speaker specialised in the subject area. Workshops/ seminars on each sub-theme are held every day. The FISU World Forum is also a platform for the member National University Sports Federations (NUSF) to share and promote projects and programmes that they have developed, which contribute to the University Sports Movement. With a constantly evolving format, the FISU Forum aims at providing a marketplace for discussions on ideas and projects for its participants.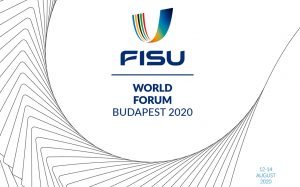 The first edition of the FISU World Forum was organised in 1992, which gathered 89 participants from 21 countries. Through 14 editions, the FISU World Forum has been organised on 4 continents and reached around 2500 participants. Participants also had opportunities to practice different sports – from curling to handball, badminton to archery among many others.
The first virtual event is coming from the Hungarian capital of Budapest from 12-14 August and is hosted by the Hungarian University Sports Federation
MAIN THEME OF THIS YEAR'S EVENT: 
Seventy years onward and still going strong: how can FISU continue sustaining the legacy of the university sports movement?
SUB-THEMES:
Health and University Sports
Inclusion and University Sport
Challenges for University Sports, including Digitalisation, University Rankings, University Sports during COVID-19
HIGHLIGHTS FROM THE 2018 FISU WORLD FORUM
SOURCE: FISU