On 21st and 22nd of May was carried out, in Bogotá, the 2nd Strategic Dialogue FISU- FISU AMERICA where 16 countries from our continent were part, and also representatives of EUSA, AUSF and members of the executive committee of FISU.
In this second opportunity of this Strategic Dialogue, the national federations presented their projects and programmes of university sports development to bring them up to date and in line with the objectives of the FISU Global Strategy 2027. Also was part of the event some representative of EUSA, AUSF and FISU, who gived a global point of view of how the university sports work around the world, with the objective of share and expose the way to work and achieve the common goal that is develope the university sports.
The american countries that participated in the dialogue were: Argentina, Brazil, Canada, Chile, Costa Rica, Colombia, El Salvador, Guyana, Honduras, Mexico, Panama, Peru, Trinidad y Tobago, Uruguay, USA y Venezuela.
Some of the speakers were:
The president of FISU AMERIFA Alim Maluf Neto, with the First Vice-President of FISU, Leonz Eder, and the Vice-President of FISU Luciano Cabral, talked about the present of the world university sport.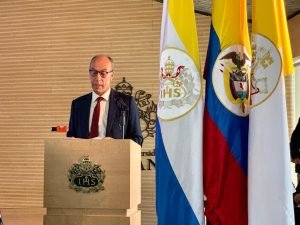 Gerardo Corrales, president of the ODUCC, was who made the presentation of the organization that brought together the university federations of Central America and Carribean.

Daniel Muñoz, representative for COSUD, exposed about the growth of the continental participation in the different events and he talked about the significance of reinforce the university sports.

The president of FeDUA and treasurer of FISU AMERICA, Emiliano Ojea, presented the project Doble Carrera, carried out by his federation. He also talked about the growth of the national leagues and the increment in the delegations for international events.

América Alvarado talked about university sports in her country, Honduras, and the projects carried out by her federation.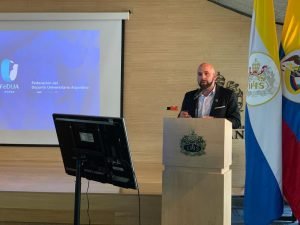 Marysol Pedraza was the representative for CONDDE, and exposed the different events and the sports supported by her national federation.

The Director of Education and Development, Lilia Barieva exposed about the projects for the NUSF and CUSF.

During the Strategic Dialogue the representatives discuss about the International Day of University Sports, which is celebrated every 20th of September, and its presentation was in charge of Tarmo Jaakson.

The Advisor Rosaura Mendez, was who presented the 6th Gender Equality Awards and its competition bases.
On Tuesday, all the representatives present in the Strategic Dialogue, traveled to Tunja to be part of the Opening Ceremony, where some of them talked and welcomed the athletes to the XVII Central America and Caribbean University Games, and  shared a great moment where recognized musicians and dancers from Colombia showed part of the culture of the country.
FISU AMERICA wants to thank to ASCUN Deportes and the Universidad Pontificia Javeriana for the hospitality with all the presents during the event.
Some pictures that left the 2nd Strategic Dialogue FISU-FISU AMERICA: