Also with the activities proposed by FISU AMERICA commemorating the International Day of University Sport, the contest 'The most active federation' already started, its objective is to promote the actions in the National University Sport Federations, in consequence, promote the university sport in the continent.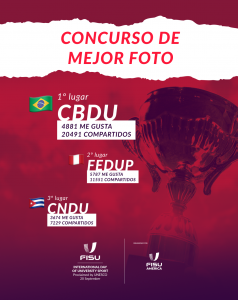 All the initiatives of FISU AMERICA (webinars, esports festivals and challenges in social networks) commemorating the 20th of September give points to the countries. Ince the celebration concluded, the federation with more participation points, will win the title of the most active federation of the continent. Also it will receive an economic amount to be used in educational or sport material that has to be donated to an institution affected by the pandemic.
During the webinars 10 points to each participant was given, so, if 5 people of the same country participated, that country received 50 points. The esports festival also follow this logic. 10 points for participant, in addition with extra points for final ranking: 1° 200 points, 2° 150 points, 3° 100 points, 4° 70 points, 5° 60 points, 6° 50 points,, 7° 40 points, 8° 30 points, 9° 20 points, 10° 10 points.
The participation in the streamings of the webinars and the esports counts points for the most active federation of the continent too. Everyday there will be a link to vote for your country. At the end these votes will be counted and the federation will be scored like that: 1°-500, 2°-400, 3°-350, 4°-300, 5°-250, 6°-200, 7°-175, 8°-150, 9°-125, 10°-100.
Both challenges in social media, 1) promotional video and 2) best photo, had high number of likes and shares in the posts. The challenge 1 analyzed the interactions in the NUSF profile, and in the challenge 2 counted the interactions in the post in the FISU AMERICA profile. Every like is 1 point and every share is 5 points.
Partial result:
Reminder: the IDUS activities will continue until 10/10. Follow us in our social networks for more content and the official page of the event.