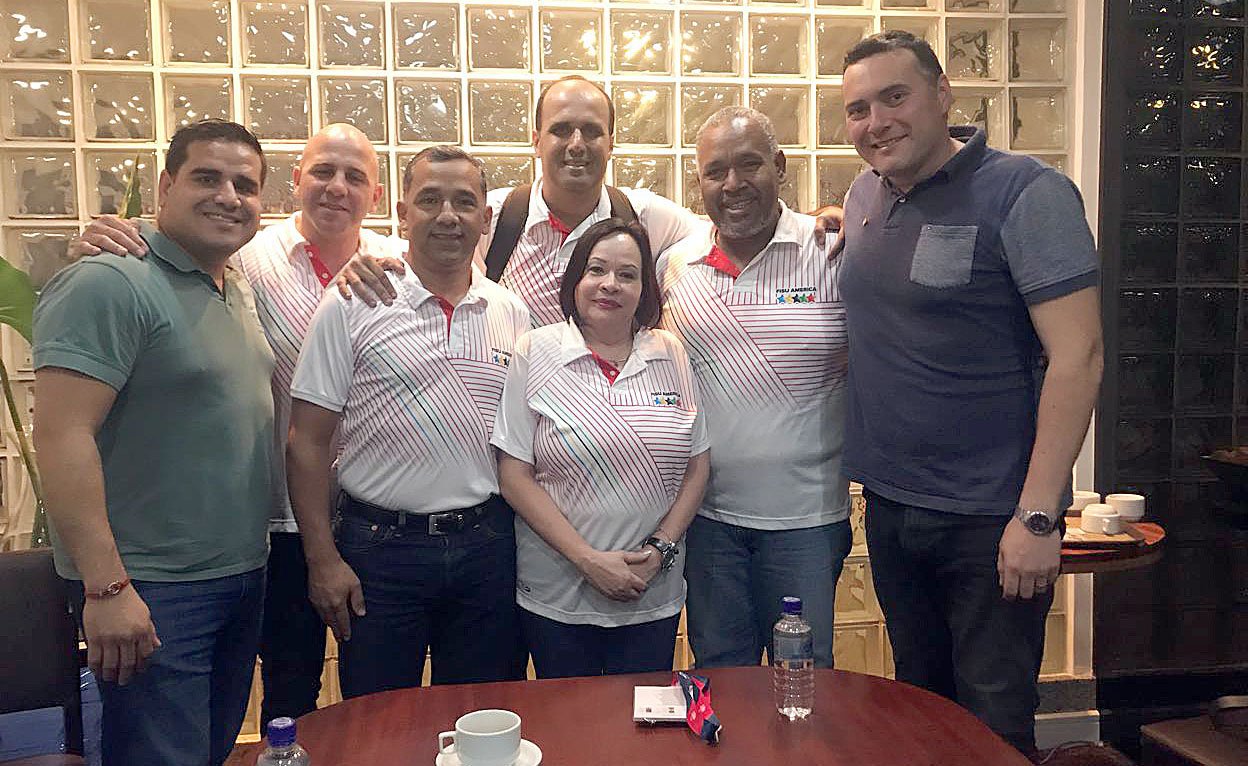 Anticipating the strategic dialogue with FISU authorities, FISU America's Executive Committee met in Brazil, where they also discussed the schedule of events for 2018. There were presents President Alim Maluf Neto, Vice President Manuel Merodio, General Secretary Sandy Rodríguez, treasurer Emiliano Ojea, counsellor América Alvarado, ODUCC President Gerardo Corrales, and COSUD President Daniel Muñoz.
After welcoming words, President Alim Maluf Neto presented the meeting agenda, divided into two main points: Strategic Dialogue FISU – FISU América, and Programming of Events of FISU America for 2018.
On the first of the topics, the event will be held on October 20 and 21 at the Sports Excellence Centre, Goiána, with the participation of 14 countries: Argentina, Brazil, Bolivia, Chile, Nicaragua, Cuba, Mexico, Venezuela, Costa Rica, Honduras, Uruguay, the Dominican Republic, the United States and Peru. In addition, will arrive FISU President Oleg Matytsin, First Vice President Leonz Eder, Vice President Luciano Cabral, Advisor Rosaura Méndez, and Development Director Laurent Briel.
During the meeting, members of FISU America's Executive Committee evaluated the organization of this event and the importance of determining the leading role that the organization should play in FISU 2017-2027 development plan.
On the other hand, it was determined that FISU 2018 event schedule will have three competitive events and one academic event. The main sporting event will be the first FISU América Games Sao Paulo 2018, to be held from July 20 to 29, 2018. The second FISU América 3X3 Basketball League is also scheduled for June 2018 and the first FISU America Football League in November 2018. Both will be qualifying for the finals of world leagues of these sports organized by FISU.
In the case of the academic event, the second edition of the FISU America Forum is scheduled to take place, with the main topic being "University Sporting Industry".
It was agreed to open the application processes for the 3X3 Football and Basketball leagues, and for the FISU America 2018 Forum, from October 20 to November 30, 2017.
FISU America General Secretary, Sandy Rodriguez, reported that on October 10, 2017, in Caracas, Venezuela, elections of the Venezuelan Federation of University Education (FEVEDEU) authorities for the period 2017-2021 had been held. The new Board of Directors is composed by: President Leonardo Morales, Vice President Jonny Noriega, General Secretary Marcos Manzano, Treasurer Manuel Amesty and Vocal Leonardo Villamizar. The University Sport Federation of Peru also held elections and will be chaired by Carlos Torres, who is been waited for FISU – FISU América Strategic Dialogue.