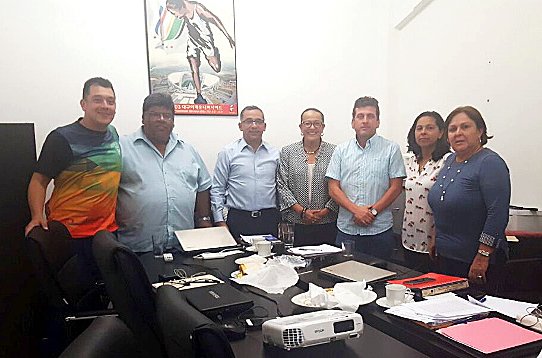 In May, the Costa Rican University Sport Federation (FECUNDE) held the General Assembly, unanimously approving the presentation of work plans and reports, and a new Steering Committee, which renamed Gerardo Corrales as president, and Rosaura Méndez as Vice President, Albert Torres as Treasurer, and Rocío Carvajal as General Secretary. In addition, directors Henry Ortiz, Lisbeth Sánchez and Jarby Loaiza were appointed, while Noelia Blanco will be auditing.
The elected president, Gerardo Corrales, summarized his previous management, and analyzed: "The balance we can do is from 2010, when the Federation formally started. Previously the National Council of Rectors of Costa Rica, which only brought together public universities, had assumed the task of organizing university sports since 1984. We started in 2013, when the Federation is consolidated under the Sports Law, a work of restructuring, renewal and formalization of federative work. I think it has been strengthened with the administrative and organizational base, and later with sports work."
"We have been working with different organizations that make up university sports at a regional and international level, which allows us to conclude that the work has been positive. We have a position on the FISU Executive Committee, with Rosaura Méndez, and also on the Control Committee. We have participated in a total of 14 Universities and in Pan American Championships, of which we have already organized two and this year we are going for the third one, with Beach Volleyball. We have also participated in the University Games of Central America and the Caribbean, practically from the beginning in 1970, "he summarized.
He also hoped that they will be able to "continue with the work we have been doing, and growing gradually, with the incorporation of universities in our federation, and representation in national sports organizations, such as the Olympic Committee and the Costa Rican Recreational Sport Institute."
Regarding the objectives and challenges for what is coming, he emphasized: "This committee will continue its work developing the Costa Rican university sport, both public and private. One of the main tasks is to work hand in hand with all the national sports federations with the aim of promoting the double career of university athletes. It also seeks to promote gender equality in all its activities. "
Among the international competition to come, the Summer Universiade in Taipei is the main one. In this way, Corrales said that "Costa Rican delegation is formalized. We will be participating in fencing, taekwondo and swimming, with two athletes in each sport, plus four athletes in athletics. It is a small but significant participation in terms of bringing the best of Costa Rican university sports into individual sports, since for budgetary reasons we are limited in team sports. We hope to consolidate some team to represent Costa Rica in a bigger quantity".